| | |
| --- | --- |
| Web | www.EndTimesReport.com |
Preparations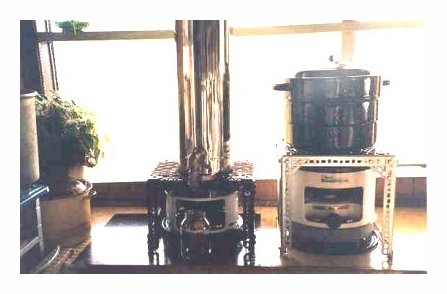 A kerosene-powered kitchen! Ideal for survival situations.
By Miles Stair
(Note dated March 28, 2008: The prices listed in this article are out of date. But with inflation raging, revising the prices every week would be a waste of time. Buy smart - compare prices - and haggle when you buy!]
A self reliant lifestyle, put simply, means anyone can be independent of "the system," building toward as much self sufficiency as possible, given the limits of present day living conditions. Should the electric power go out or natural disasters leave you isolated, plenty of stored food and water, plus heat and cooking systems, etc, will enable your family to continue to be warm and nourished during the emergency and beyond. If Martial Law is declared or terrorist attacks occur, you need not leave the safety of your home, unless your individual foresight and planning include an "early out" to a retreat with pre-positioned supplies. Thus your family need not take the Mark of the Beast when imposed upon us by the One World Order. We will have stored food and water, essential to life. Add in faith, and we will wait Him out. Remember the seven lean years!

The concepts involved in self reliant living are simple. The implementation is not. It takes dedication and effort to prepare for adversity. The beneficial need of prudent preparations are self evident. With proper preparedness comes security and peace of mind. Problems will slide away as you enable yourself to believe in your ability to just live without fear and struggle. You will not have to rely on government handouts, a community shelter, a food line, or daily onerous trips laden down with milk jugs to the county water tanker truck if available.
Those who are not prepared will be controlled. The alternative to preparing to survive on your own is depending upon the government to do it for you. Are you willing to move into a crowded shelter or camp which may be hundreds of miles from your home? The government has been prepared for just that type of event for years. Executive Order 11002 designates the Postmaster General to operate a national registration of all persons. Executive Order 11002 designates the Postmaster General to operate a national registration of all persons, as the card below proves. Cartons of these cards are stored in every Post Office.

So, how does one become prepared? First, you need an ample supply of stored food. Begin with inexpensive bulk foods such as rice, grains and beans, then build around these with home dehydrated vegetables and "hamburger rocks" and regular canned food - which lasts a very long time in proper storage. We share tasty recipes called "Manna meals" food and recipes that really work in hard times. Planning and cooking meals will differ from the plentiful array of foods found at stores that we now expect to always be available just by pushing a shopping cart. Does anyone remember the Ration Stamp Books of WW II? They will be issued again. Be prepared for a food shock as the price of food staples increase dramatically.
If you have the space - even a little space - strongly consider gardening for a continuing supply of fresh produce. A survival garden can even be hidden if you have any bit of privacy to provide additional security for your food supply - a Secret Garden.
If you have or can build a greenhouse, semi-hydroponic gardening can supply fresh greens virtually year-round - lettuce and spinach in the warmer months, and chard for most of the winter.
And be prepared to save your own garden seed! Of course you must start with good non-hybrid seeds. Then saving your own seeds for planting the following season gives you a great deal of self reliance from what could happen at any time.
[ UPDATE JUNE 17, 2012. For the past 12 years on this website I have shown you how to build your own storage food supplies. That information is still here - see the links on the left side of this page. Now, however, it may well be too late to begin the slow accumulation of a supply of stored food. A jump start - a basic supply - is needed now. That supply should be supplemented with bulk foods such as canned food, whole grain wheat and rice, hamburger rocks, plus garden greens. But the safety and security of long term, prepared stored food should now be considered virtually a "must have" item. On the right side of this page are advertisements for two Survival Food companies. Both are recommended. They have the stock on hand for immediate shipment and their prices are reasonable. Please take the time to compare what they have to offer and choose a good supply of their stored food. I have obviously been prepared for many years, but nevertheless purchased a nine month supply of food for four people just to have it on hand. With a 25 year shelf life they are a very smart investment for your future. ]
Help! The Grocery Store Shelves are Empty
Stored water is essential to long term survival, particularly if there is a workable method to replenish the supply independent of local water plants. (See Miles' booklet on rain water collection, storage and delivery.)
Let us consider some basic needs essential for a normal degree of living: heating, cooking and lighting. This must be done in such a way as to be reliable, inexpensive, non-observable to passers by, yet independent from the utility grids. Kerosene heaters, cookers, lanterns and lamps fill the bill perfectly for both short and long term use. Short term cooking in a crowded shelter can be done on an alcohol stove. For the long term, wood cooking and heating may well be required, but the tell tale smoke from fires would be an obvious beacon to others, and not safe to use until the dust settles...or normalcy returns.
Tools are also needed, such as meat and grain grinders, hand saws and other hand tools. Battery operated radios can be operated with a solar charger, and of course wind up or hand pump radios and flashlights are available, as news of world events would be critical.
These and many other issues of physical preparation will be covered in the sections to follow. Each menu item will link to a separate section of preparedness, so you can click to the area of your immediate interest.

Now, a complete off-the-grid Family Preparedness Emergency kit!

John at St. Paul Mercantile asked me to recommend what should be included in an actual working Family Emergency Kit. I chose those items I have actually used for at least a decade and know to work well in emergencies. I had to hunt long and hard to find those items years ago, and now they are available in one nice package at far less cost than buying them individually. (Continues below)

Click to enlarge photo

St. Paul Mercantile is now offering a Family Emergency Kit with everything you need to cook, bake, light your home, listen to the radio, and produce clean drinking water. The kit includes 1) a #2418 Double Burner Stove, extra fuel bottle and 8 extra wicks, 2) a #2412 Brass Pressure Stove that is small and compact so you can quickly pack it if you need to leave your home suddenly, 3) a #2421 Oven that you can use on your double-burner stove to bake bread and meals, 4) a #828 Pressure Lantern with a dozen extra mantles, 5) 3 "railroad" type lanterns for reading or lighting a table, 6)an emergency AM/FM/Shortwave radio that also picks up weather and emergency bands, plus it can be powered by AC, batteries, solar power, or crank power, 7) an incredible fuel filter funnel; 8) a hand crank LED flashlight, and (9) an Aqua Cera water filter to remove bacteria from virtually any water source to make safe drinking water.

The first item required is a good, reliable everyday kitchen stove. That would be the #2418 double burner stove. See the photo at the top of this page? On the left side you can see the edge of my #2418 double burner stove, and that photo was taken nine years ago. My review and operating instructions are here. The second item needed was a good portable, any-fuel stove - the Butterfly #2412. More info here. Third, frying isn't enough, because the staff of life - bread - requires baking. The double-walled #2421 Butterfly Oven is the answer. More info here. The fourth item required is lighting. The Butterfly #828 rapid start lantern was designed to illuminate a field kitchen with any fuel available anywhere in the world, so it will easily light up a room as well as electric lights. More here. Walking around in the dark is not too swift, and railroad lanterns are safe and very fuel efficient. The items above use fuel, and fuel found in an emergency can be contaminated. Hence, the fantastic filter funnel listed above. I was thrilled when I found that funnel 8 years ago! Communications are important so you know what is going on in the world. The AM/FM/SW radio in the kit can be stored for years, then work when you need it on either solar power or winding the crank for a few minutes to charge the internal batteries. And finally, a proven reliable water filter completes the kit, as safe drinking water is imperative.
Economy Family Emergency Kit
Includes a #2487 stove, 4 extra wicksets, oven, 3 hurricane lanterns, radio, LED flashlight, and bucket water filter kit (2 10" ceramic plus a spigot). The lanterns also come with extra wicks. $249.00.

Should you tell your friends, neighbors and relatives about your preparations?
Absolutely not. No. Never. If there is a crisis or emergency, you will want the option of inviting those whom you choose to share in your preparations. What are the alternatives? Let me quote from a famous "aftermath" reconstructionist.
"A Just Economic System is about entitlement. All persons, in an abundant society, are entitled to subsistence. That is to say; to sufficient food, shelter, clothing and basic health care, for a reasonable standard of life. In a less than abundant society, decisions sometimes have to be made in favor of those who can contribute to the survival of the society and those who can't or won't."
"Our main concern with entitlement is, who (i. e. which entrepreneurs) are entitled to the factors of production (land, labor, existing goods).... It is necessary that distribution of resources will be based upon value judgments as to the future possibilities present in the person...."
"The gathering together of food supplies will be a very contentious issue, and for those few who have made prior preparation, or who happen to have control of sufficient stocks, it will be one filled with trepidation. The balance between the rights of those who have prepared, and the need to access the supplies of those who are simply hoarding, will need to be accomplished with wisdom by the Directorates."
Marvelous. Your preparations would be considered "hoarding" by those too lazy to prepare now!
And of course federal politicians see individual initiative as ripe for harvesting. "The Obama administration has been plotting what can only be called a total government takeover of America.

"On March 16, 2012, President Obama issued an executive order entitled, "NATIONAL DEFENSE RESOURCES PREPAREDNESS." This executive order states that the President alone has the authority to take over all resources in the nation (labor, food, industry, etc.) as long as it is done "to promote the national defense" -- a phrase so vague that it could mean practically anything."
http://www.naturalnews.com/035301_Obama_executive_orders_food_supply.html#ixzz27yEUv5gt
If those quotes don't scare you into keeping your preparations to yourself, nothing I could say would convince you....
The first principle of warfare is to identify your friends, identify your enemies, and remember which is which.
Proverbs 22:3:

A prudent man foresees the difficulties ahead and prepares for them; the simpleton goes blindly on and suffers the consequences.
Proverbs 21: 20.
In the house of the wise are stores of choice food and oil, but a foolish man devours all he has.
Proverbs 6:6-8
Go to the ant, you sluggard; observe its ways and be wise! It has no commander, overseer, or ruler, yet it prepares its food in the summer; it gathers at the harvest what it will eat.
~~~~~~~~~~~~~~~~
SURVIVAL CREED

THE WELL PREPARED ARE UNDER NO OBLIGATION TO ENDANGER THEIR OWN SURVIVAL TO ASSIST THOSE WHO HAVE REFUSED, FOR WHATEVER REASONS, TO PROVIDE FOR THEIR OWN WELFARE!

POOR PLANNING BY YOU DOES NOT CONSTITUTE AN EMERGENCY ON OUR PART!

Words of Wisdom
Preparedness is expecting the unexpected.
There are no emergencies for those who are truly prepared.
It is better to have it and not need it than need it and not have it.
How to do it: Re-order your priorities -- get back to the basics.
Sacrifice immediate gratification to gain long-term security.


"You cannot multiply wealth by dividing it."
"You cannot legislate the poor into freedom by legislating the industrious out of it. You don't multiply wealth by dividing it. Government cannot give anything to anybody that it doesn't first take from somebody else. Whenever somebody receives something without working for it, somebody else has to work for it without receiving. The worst thing that can happen to a nation is for half of the people to get the idea they don't have to work because somebody else will work for them, and the other half to get the idea that it does no good to work because they don't get to enjoy the fruits of their labor." Adrian Rogers, 1984