FELS NAPTHA LAUNDRY SOAP
| | |
| --- | --- |
| Amount Measure | Ingredient |
| Water | |
| Fels Naptha Soap bar, grated | 1/3 bar |
| Washing Soda | cup |
| borax (Boraxo) | cup |

Preparation Method
Measure 3 pints of water into a cooking pot. Add 1/3 bar grated Fels Naptha laundry soap. Cook over medium heat until dissolved. Stir in: cup Washing soda, cup Borax. Stir until it thickens like honey. Remove from heat. Pour 1 quart of hot water into a two gallon bucket, stirring in the thickened soap mix. Stir and mix until well blended. Cover and set aside for 24 hours. It will gel up.
Use cup for each load.
This formula makes a laundry soap "gel" which costs only about 10 cents a load, so it is economical and efficient to use now. The money saved can be used for other preparations. But it isn t necessary to actually make this laundry soap now, as once made it is bulky. Simply having 20 bars of Fels Naptha soap and 5 boxes each of washing soda and borax on hand would enable you to make enough laundry soap for years when you need it most.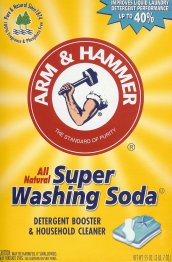 Note: Obtaining "washing soda" (Sodium Carbonate) seems to be a problem in many areas of the country. Arm & Hammer packages "Super Washing Soda" in 3 lb, 7 oz boxes (see photo) which sell in the laundry soap isle of my local grocery store for $2.65 per box, or less than $1.00 per pound: The stock number is WS-032020-01, and the web site listed on the box is www.thelaundrybasket.com. Perhaps the Arm & Hammer web site will be of use in locating a store in your area carrying Arm & Hammer "Super Washing Soda." From their site: "We offer Super Washing Soda in a 55-ounce carton. If you are having trouble locating this product, you may want to ask your local store manager to order it for you. It may be helpful to provide the UPC number: 33200-03020." For more information, see the Arm & Hammer question web site: http://www.churchdwight.com/consumer_info/index.asp?source=WEBLD
Fels Naptha bar soap is sometimes hard to find. It can be ordered through the Dial Soap web site if you cannot find it locally; 12 Units $15.00, Case of 24 is $30.00, plus postage. http://www.thedialstore.com/product_search.cfm?search_text=all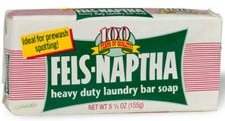 20 Mule Team Borax is available at virtually every grocery store in the laundry soap isle.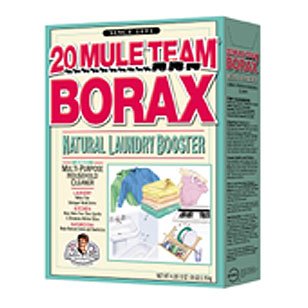 ------------------