PLAYING WITH TEMPERATURES
Temperature - heat and cold - changes the actual physical properties of things, and is easy to use to help us make or repair things, or even make our own tools.

A very useful railroad spike!

Making steel tools for various specific purposes has long been done by the person who wants and needs the tool. Again, using temperatures properly can make a hard job much easier. Leaf spring or file steel has incredible quality, and can be worked rather easily if first softened by a process called annealing. Place the steel to be annealed into a fireplace or wood stove, heat it to a cherry red, then let it cool naturally, and it will be annealed.

The annealed steel can then be cut, drilled, and shaped as desired. While still soft it is then sanded and filed to very near the final finish, including buffing if desired, then heated again to a cherry red and then immediately quenched completely in oil, a process called tempering. The oil-bath tempering restores a spring-steel quality of temper. Then the oil scale is removed, final buffing done, the finish edge applied (as in a knife), and the tool is ready for use. Cold water quenching makes steel harder, but brittle.

The size of the tool desired is used as a gauge for what size steel to use to make it. Wood rasps make fine knives or scrapers, needing only to be swaged into shape when annealed. Swaging is cold-forming of steel with a hammer and anvil. The combination of annealing, swaging, and tempering can be used to fix bent leaf springs used in many applications.

Let us assume you have a collapsed "V" shaped spring in one of your tools. First the spring is annealed, then it is gently swaged to its original shape, then tempered, and it is almost as good as new. Pioneer gunsmiths restored leaf springs over campfires in the wilderness.

Heating steel makes it expand slightly, while rapid cooling makes it shrink, or contract, slightly. Using those principles the pioneers could put a steel rim onto a wooden wagon tire in the middle of nowhere. The rim was formed to be slightly smaller in diameter than the wheel, then heated in a campfire to a red color, quickly placed around the wooden rim, then shrunk to a tight fit by splashing the hot steel with cold water. The steel would be brittle from the cold water quench, so better wagon smiths quenched with oil of some kind, even lard or fat.

That same principle can be used to attach bands of steel around shafts, for example to attach a pulley or a sleeve to strengthen a bent rod or shaft. The sleeve or pulley is boiled while the shaft is frozen, thus expanding the sleeve and contracting the shaft. If the sleeve was drilled slightly smaller than the shaft, it will now fit over it, and as the temperatures equalize the band or sleeve becomes tightly bound to the shaft.
Primitive welding can be done with the process of hot swaging. Say you want to make a steel band to reinforce a tank. The band is first annealed, then swaged round to the final diameter when cold. Then the overlapping ends of the band are heated cherry red and hammered together on an anvil while hot. The process may have to be. repeated several times, but the ends of the band will become "welded" together and stay firmly attached. A gasoline or propane torch can be used for "spot" heating for this purpose, thus confining the heat to a specific spot. If a fire is used instead, tongs or vice grips must be used to hold the steel while swaging, as the heat cannot be localized as with a torch.
The knife and sheath above illustrate that an outstanding and very useful knife can be made with materials at hand. A large file was annealed twice, hand forged to shape, ground, sharpened, then hardened in a two-step process, the back of the blade being spring temper and the edge only being knife hard. The knife can thus be used as a machete, clearing brush and chopping down small trees, or be a fine combat knife if called upon to do so. The sheath was made from plastic cut from a thick blue 50 gallon barrel, glued and riveted together. If the blade is kept clean and oiled so that it does not rust, the knife and sheath should last for the remainder of my lifetime and another as well.
| | |
| --- | --- |
| Three knives hand forged from old files. The handles were made from dry hardwood found in the forest, shaped and riveted in place using nails for rivets and copper pennies as washers. | The leather for the sheath was from an old tractor implement power belt found in an abandoned barn, hand riveted so the knives all nest as shown above. The cost? Some nails, rivets, and pennies. |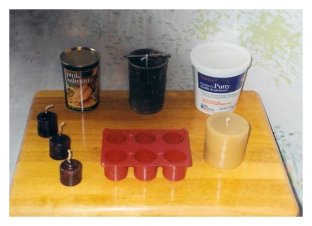 Working with wax making candles or as a beekeeper? A tea kettle can be your best friend. Take wax, for example. It melts at 145 F, so boiling water (212 F) can melt it easily. A brief dip in hot water loosens a candle from a mold, and soaking in boiling water will clean the mold. Have a candle gang mold and the candles are stuck? Freeze the mold, and the wax and mold will contract. Thawing expands the mold faster than the wax, and the candles should come out easily. If not, a little boiling water from a whistling tea kettle over the mold will expand the mold and the candles will come out easily. Then pour boiling water into the mold to dissolve whatever was causing the candles to stick. See more in Making Candles.
Boiling water poured through a honey filter turned inside-out will melt the wax particles and residue right off.

Propolis is remarkably sticky and tenacious at room temperature. But freeze it and propolis becomes brittle and can be "popped off" frames. Heat an old but sturdy frame in a solar melter and the wax will melt off, leaving the propolis which will be soft and easily scraped away.
Encounter cartridge brass that is too hard (old) and getting split necks, and you need that brass for reloading? Anneal the neck and shoulder area and the brass will become soft and last another 20 rounds or so before annealing is again needed. The details of annealing cartridge brass can be found in Reloading .410 shotshell cases.